Capital Smart City
The Capital smart city is based on the concept of becoming the first Smart City in Pakistan due to its intergraded smart Features, facilities because and Grade-8 development. It has become one of the booming housing societies in the region. The project has been planned to give its residents and investors an eco-friendly and safe environment.
Owners & Developers
Capital Smart City is an initiative of Future Developments Holdings Association in collaboration with the topmost developer companies in Pakistan Habib Rafique (Pvt.) Ltd.
FDHL

FDHL is one of the renowned Pakistani assets developers and quality Management company, which helps develop opulent up-scale residential & commercial projects that conjointly promote profitable contributions for its investors.
HRL

Habib Rafiq one of the most prominent names in the real estate industry in Pakistan. HRL is one of the most prominent developer groups known for their exquisite development of Bahria Town Islamabad, DHA, Royal Orchard Multan and Sargodha, and Islamabad Airport.
Location Map
The Capital smart city project is situated at Lahore-Islamabad highway at a distance of 9 kilometers from M-2 via Thalian interchange, falling on the eastern route of CPEC and 5-6 minutes away from the new Islamabad international airport.
Location Map
You can view the exact position of society from this Capital Smart City Location map: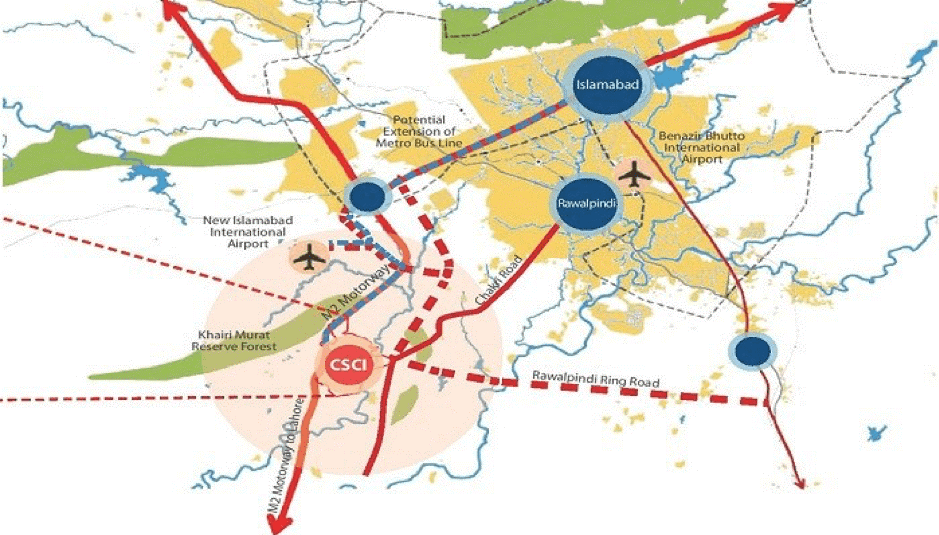 Access Points
The society can simply be accessed through Main Chakri road from M-2 Motorway and via ring road soon. This access has been approved by FWO and is directly linked to the neighbouring areas through the national highway, Lahore-Islamabad M-2 Motorway. It will have its designated interchange from the Motorway, placed only 9 km away from the Thalian interchange.
Total Area
Capital Smart society comprises a total land of 55,000 Kanal. Authorities then submitted the request for an extension of the land in August 2019. After the approval of the extension in June 2020, Capital Smart City presently comprises 80,000 Kanal. It is considered one of the most significant housing societies in the region of twin cities.
CSC Islamabad is one of the legal housing projects in Islamabad, and its NOC is approved by Rawalpindi Development Authority (RDA). The society is enlisted on the RDA website in the list of legal housing societies.
Official Launch Of Capital Smart City
On May 2nd, 2019, Capital Smart City Islamabad was officially launched in an exclusive launch ceremony held at Capital Smart City.
Master Plan
Capital small city Master program is designed by Surbhana Jurong, a reputed consultancy firm headquartered in Singapore. It is considered one of the largest Asia-based urban, engineering, and infrastructure consulting company with 120 offices worldwide.
The master plan of the Capital Smart City is designed to focus on enhancing the natural features of the area. The Master plan includes infrastructure such as a smart BRT System which is a specially designed transport network in the society, a fool proof security system, a central boulevard, and a cascade of multipurpose high-rise buildings.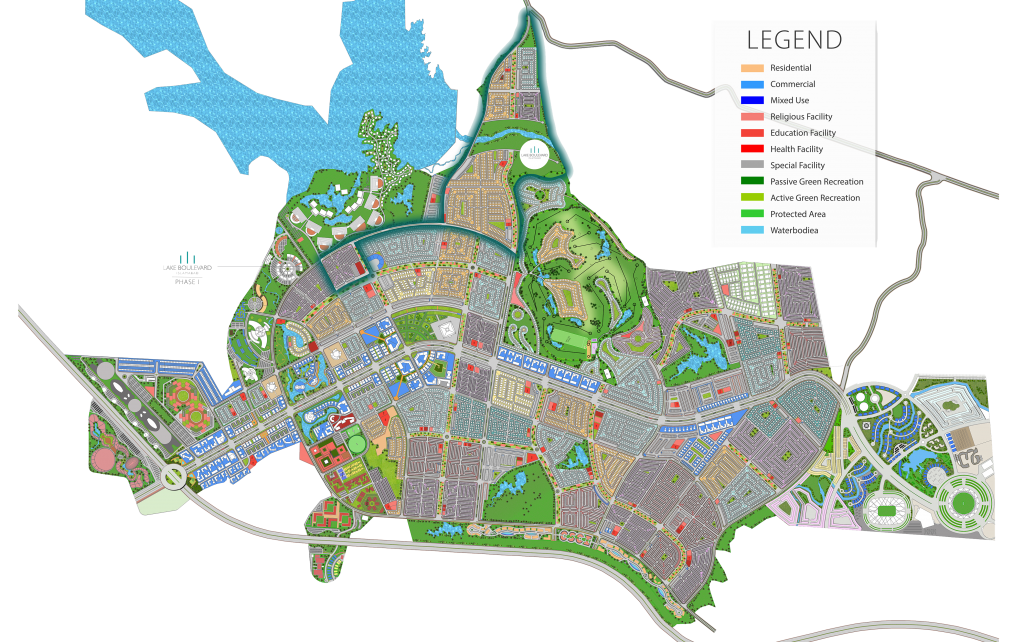 Master Planners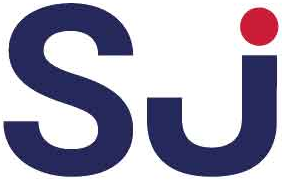 Surbana Jurong (SJ) Company is the master planning firm of Capital Smart City. They are Singapore's primarily based urban management model firm chosen to develop the Master plan of Capital Smart City. It is headquartered in Singapore. SJ is presently one of the most essential Asia-based urban, industrial, and infrastructure consulting corporations, which provides one-stop solutions.
Districts
Following are the proposed districts included in the master plan of this innovative housing society:
1. Gate Precinct
2. Aviation District
3. Crystal Lake
4. Boulevard District
5. Financial Square
6. Healthcare District
7. Education District
8. Lake View Terrace
9. The Terraces
10. Capital Hills
11. Overseas Block 1
12. Overseas Block 2
13. Residence Vista
14. Hills View Heights
15. Cultural Heritage District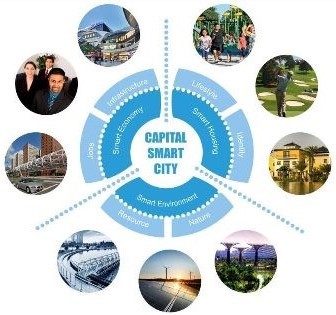 THE REGION'S ALL PURPOSE HUB
situated on M2-Motorway near the new International Airport Islamabad and twins Cities.
THE HOME OF LUXURY
It cleverly provides the ideal balance of company and pleasure.
UNMATCHED FACILITIES
Unmatched structural design, planning and civic facilities
This Eco-friendly environmental project idea revolves around World Class Infrastructure to invest in Residential and Commercial Properties.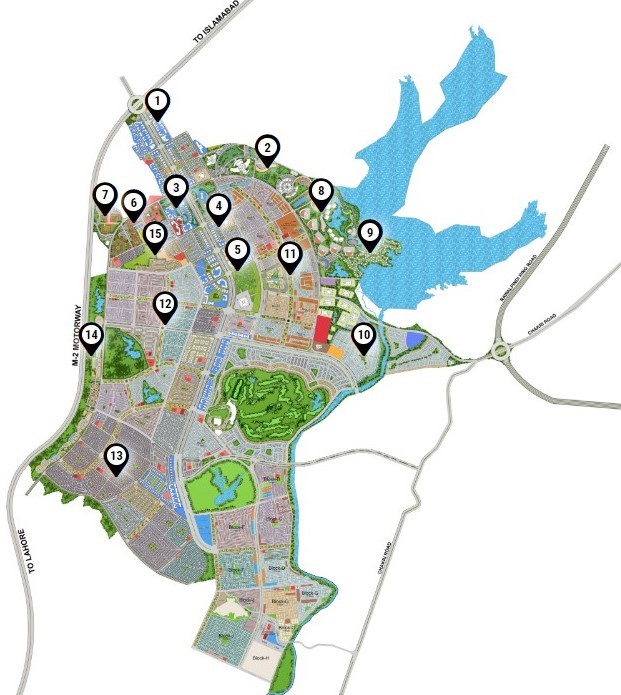 Why Smart City?
The capital smart city is a new eco-friendly destination with an exclusively designed interchange on Motorway (M-2). A massive entrance with 14-Lanes (400 feet)  5-7 minutes away from the New Islamabad International Airport
Why Is it Smart City?
Smart Housing
Smart Housing Capital smart city Islamabad is striving to provide its residents with quality and upscale living while keeping the environment ecofriendly and smart. Along with the upscale development and state-of-the-art infrastructure, the housing society will provide a large variety of amenities for each living in the society.
Smart Economy
This project will soon become one of the most popular economic hubs in the region. The master plan of the society is designed in a way that the society establishes many job opportunities and creates an environment for business growth. These business centers are expected to create 90,000 jobs & business opportunities for locals and international markets.
Smart Environment
The environment in the society is kept ecofriendly and sustainable in terms of natural beauty and topography. 30% of the total area in the society is reserved for natural landscapes and green areas. Moreover, developers conjointly maximized their efforts to avoid any chance of damaging natural scenery.
Residential Plots
Capital Smart City offers its clients and investors an array of residential plots. Details of these plots are as follows:
Overseas Block
This block is designed for overseas Pakistanis due to its outclass facilities and prime location; it's the central demanded unit of Capital smart city. Overseas block is a secure and beneficial opportunity to invest for overseas Pakistanis. Moreover, compared to other Blocks, it is specially designed to meet overseas Pakistanis living standards. Furthermore, it is easily accessible from a designated interchange, directly from the Motorway.
Overseas Block Location
The exact location of the block is at the right upper side area of the main Boulevard; the two blocks' overseas district will be accessible directly via the designated interchange from the Motorway.
Overseas Prime Block
According to Overseas Pakistanis need, the Prime block is distributed into 7, 10, 12 Marla, 1 Kanal & 2 Kanal Plots.\
Overseas prime block payment plan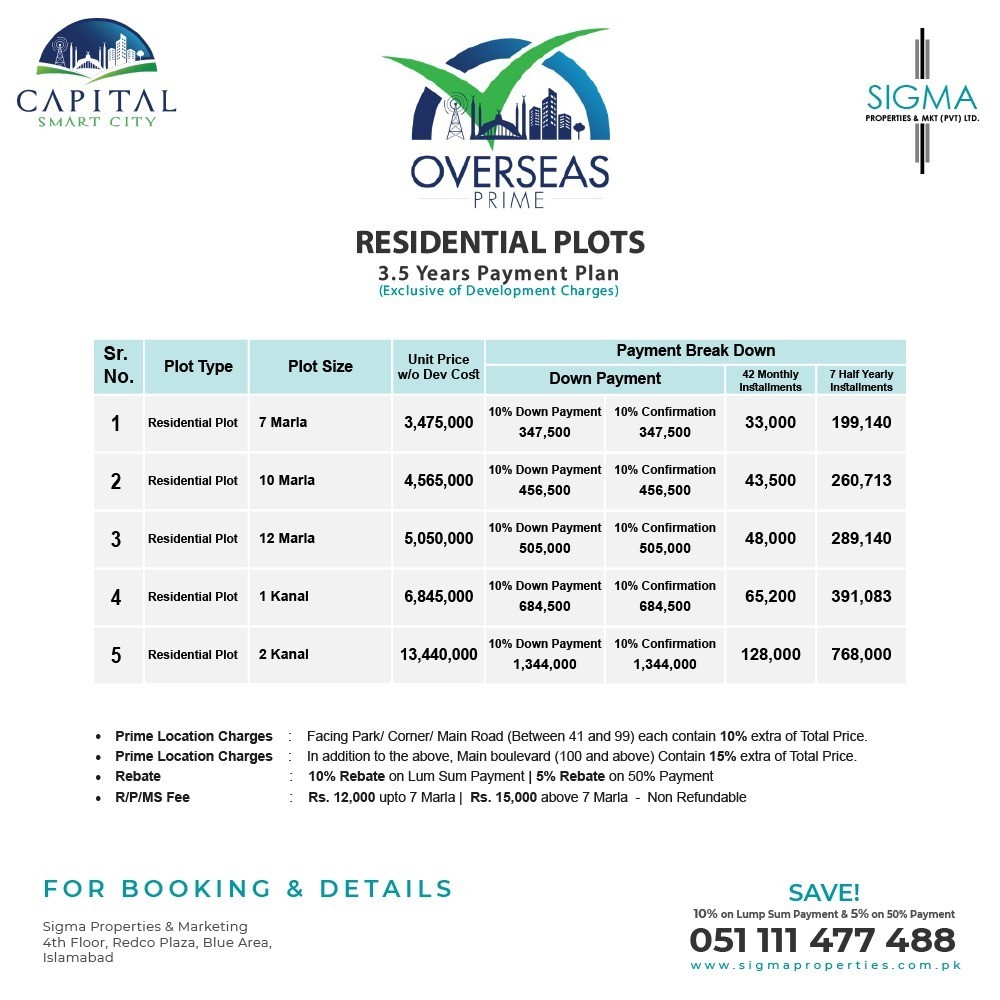 Why is overseas a safe & profitable opportunity to invest?
CSC is offering secure & beneficial opportunities for overseas Pakistanis to invest in their motherland. This housing society has a high significance in the CSC Project. It portrays gratitude for all the hard work & effort of overseas Pakistanis that they have been provided for our country.
Overseas booking documents
3 Passport size pictures
2 Photocopies of your CNIC
1 Passport Picture
1 Visa card Picture
1 Resident Card Copy
2 Photocopies of Your next to Kin/ Nominee ID Card
Booking amount of the plot
Possession of Plots
Possession of Overseas plot in district 1 is already granted by the first quarter of 2020. To avoid any delays, investors must keep up with the payment plan & pay the booked plots installments.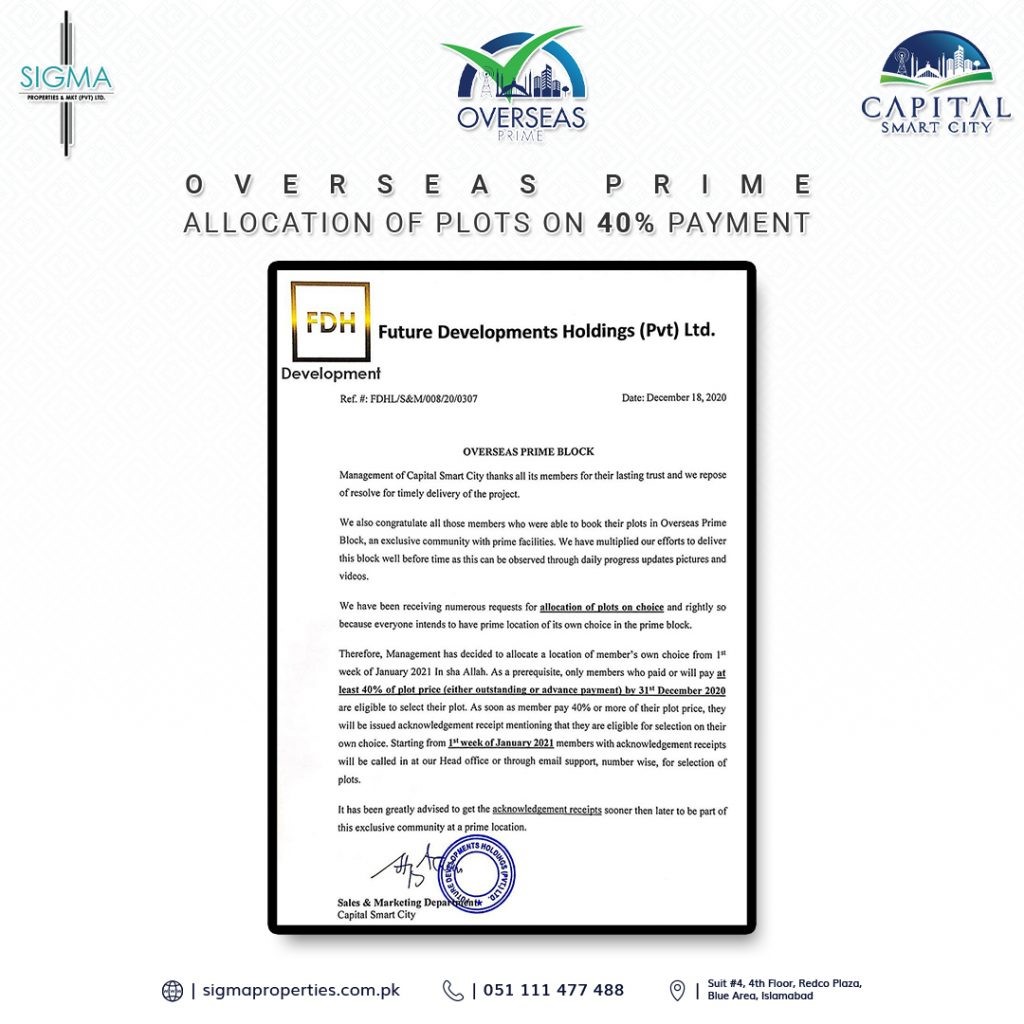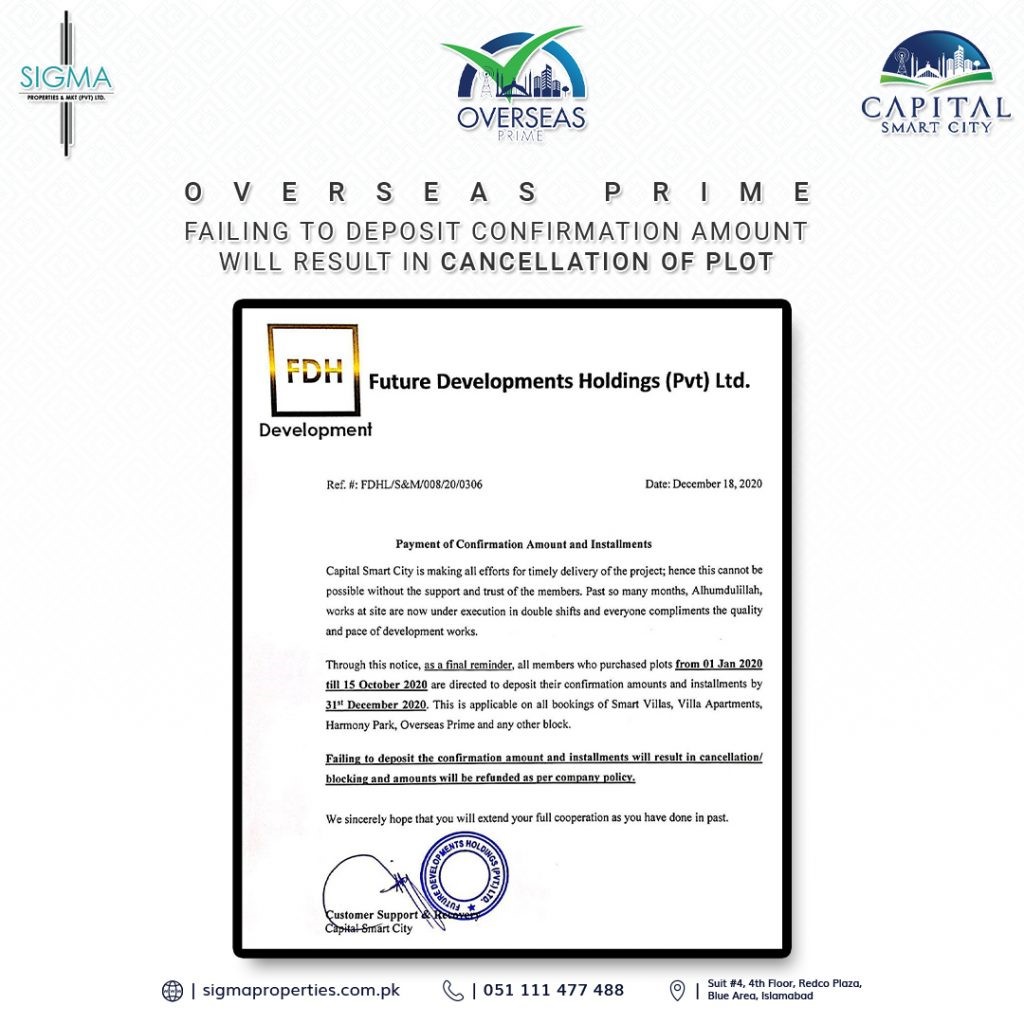 Executive Block
The Capital Smart city offers numerous commercial plots in different sizes to introduce the commercial activity. It provides an economic environment accompanied by the latest facilities. The flexibility that is required for a business to flourish is only offered here. Commercial plots are available in executive, overseas block. Mini commercial plots are also available in harmony park block, and soon commercial area in the overseas prime block will also be available.
General Block
The general block of the housing society is the block that was launched in the early days of when society was established offering 5 Marla, 7 Marla, 10 Marla, 12 Marla and 1 & 2 Kanal Plots
General Block Location
General block of society is placed right next to the Overseas Block of the society, to the main boulevard of CSC. This can be viewed from the master plan of the society given below:
it is one of the oldest block in CSC and is situated next to Overseas Block
General Block Payment Plan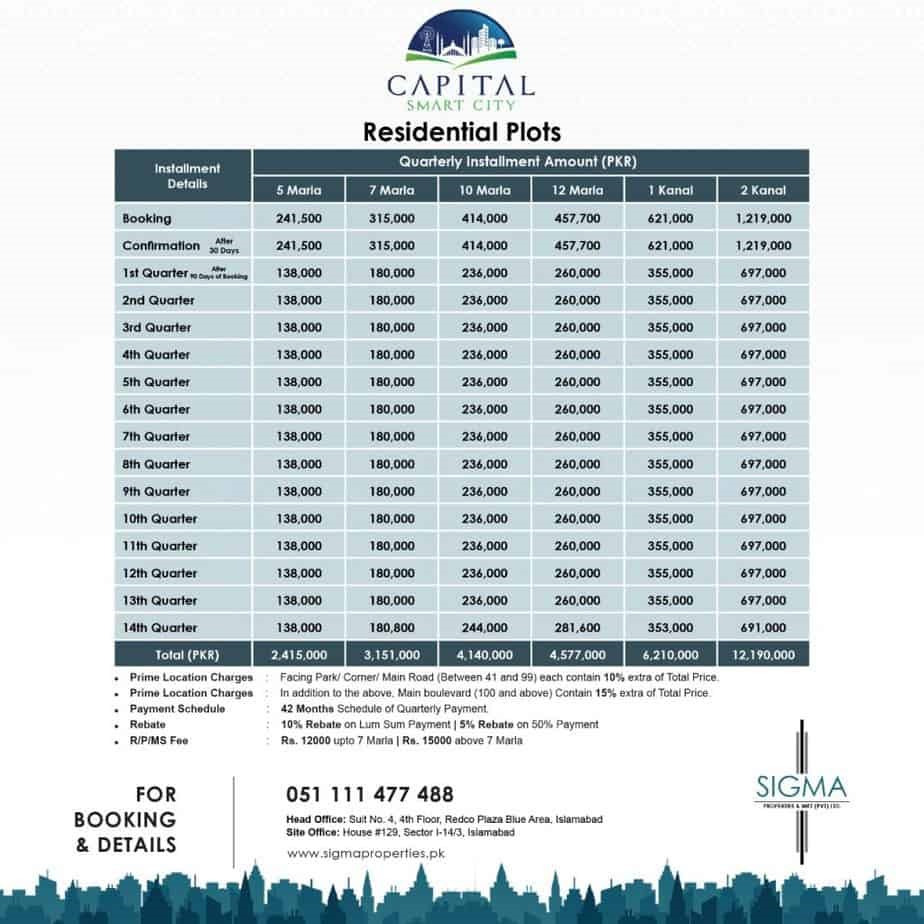 Commercial Plots
The Capital Smart city offers premium commercial plots in an exceedingly wide selection of sizes. It is opening new horizons for industrial activities within the space. It provides an economic environment accompanied with the latest facilities. The flexibility needs to flourish is only offered here. It is the first smart city, which is redefining the angle of commercial areas. Commercial plots are available in executive and overseas block. Mini commercial plots are available in harmony park block and soon, they are announcing commercial plots in the overseas prime block.
Location of Commercial Plots
The capital smart city offers premium commercial plots in an exceedingly wide selection of sizes. It is opening new horizons for industrial activities within the space. Accompanied with the latest facilities, it offers an ergonomic environment. The flexibility needs to flourish is only provided here. Being the first smart city, Capital smart city is redefining the angle of commercial areas.
Commercial Plot Categories
Capital Smart City is offering Commercial Plots within the following classes:
6 Marla
4 Marla
6 Marla
8 Marla
Before, developers offered only two types, i.e., 4 Marla and 8 Marla. Later on, the 6 Marla category added. The ones present on Main avenue will be offered within the 3rd stage to be high-rise buildings. Also, the industrial area is accessible among the four hundred meters distance from residential houses. As mentioned earlier, the Capital smart city master program relies upon the Urban Township Model.
Payment Plan of Commercial Plot
CSC Commercial zone offers payment plans for the plots that vary from 4 Marla to 8 Marla plots and their price starting from 10 to 17 Million on a 3-year easy instalment plan. Check out the full payment plan below: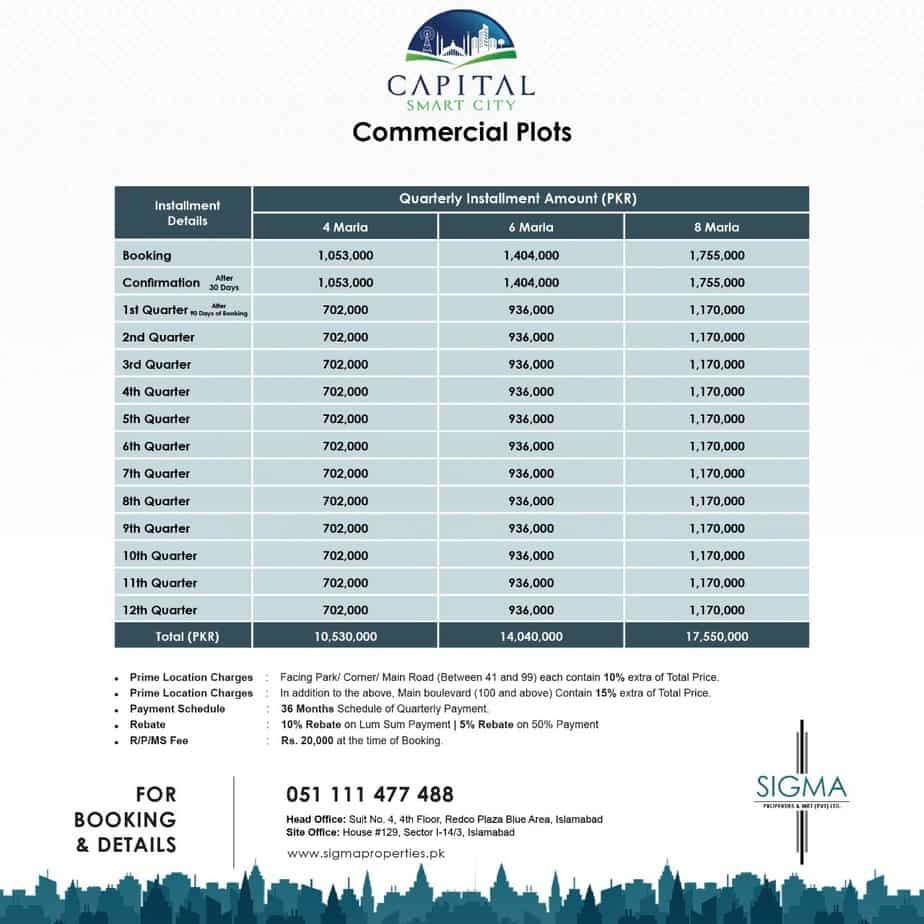 Smart Villas
Capital Smart city villas are modern living options for an urban lifestyle & a part of the avian-Grande project of Capital smart city. From the new Islamabad International Airport, It is located at a distance of only few mins.
Contemporary Villas
These villas are highly designed with modern architectural features, clean and understated lines. The villas feature grand glass doors and windows that allow the residence to feel the grandness of the exterior.
Mediterranean Villas
Mediterranean Villas are inspired from architecture from Spain and Italy. These villas are a true definition of class and modern technology, a perfectly fit residences for modern families. Arched openings, wooden pergolas and terracotta roofs are only a few of the wonderful features Mediterranean villas offer.
Georgian villas
Georgian villas at CSC represent symmetrical architecture, featuring cutting edge, open plan living with magnificent interiors. Among the stylish features these villas are designed to showcase elegant array of sliding glass doors and windows to give the grand vibe of being in sync with the outdoors.
These villas are embellished with symmetry with clean, underneath lines. It reflects classical style and homes are ideal for open plan living with elegant interiors.
Master Plan of Villas
Smart Villas in another extravagant project of Capital Smart City, located at only a few minutes' drive from the new Islamabad International Airport. The placement of these smart Villas are strategically designed in the Overseas and Executive block of the society.
Smart Features
Smart switches
Temperature and humidity sensor
Automated door lock
Gas sensor
Smart doors and windows
Magic box
Remote access via mobile phones
Smart motion sensors
CCTV outdoor & indoor cameras
Location of Smart Villas
Smart Villas are present in both executive and overseas block of Capital Smart City, enclosed by Crystal Lake and 18-Hole Golf signature Course.
Harmony Park Block
CSC offers different sizes of plots in residential, commercial, and luxury villas ranging from 5 Marla to 1 & 2 Kanal plots in easy three-year quarterly installment. Extra charges for categorized plots.
Main Boulevard (100′ above) 15% Extra
Main Road (41′ to 99′) 10% Extra
Facing Park 10% Extra
Corner 10% Extra
For further complete details payment plan is mentioned below:
Harmony Park Block Commercial Plots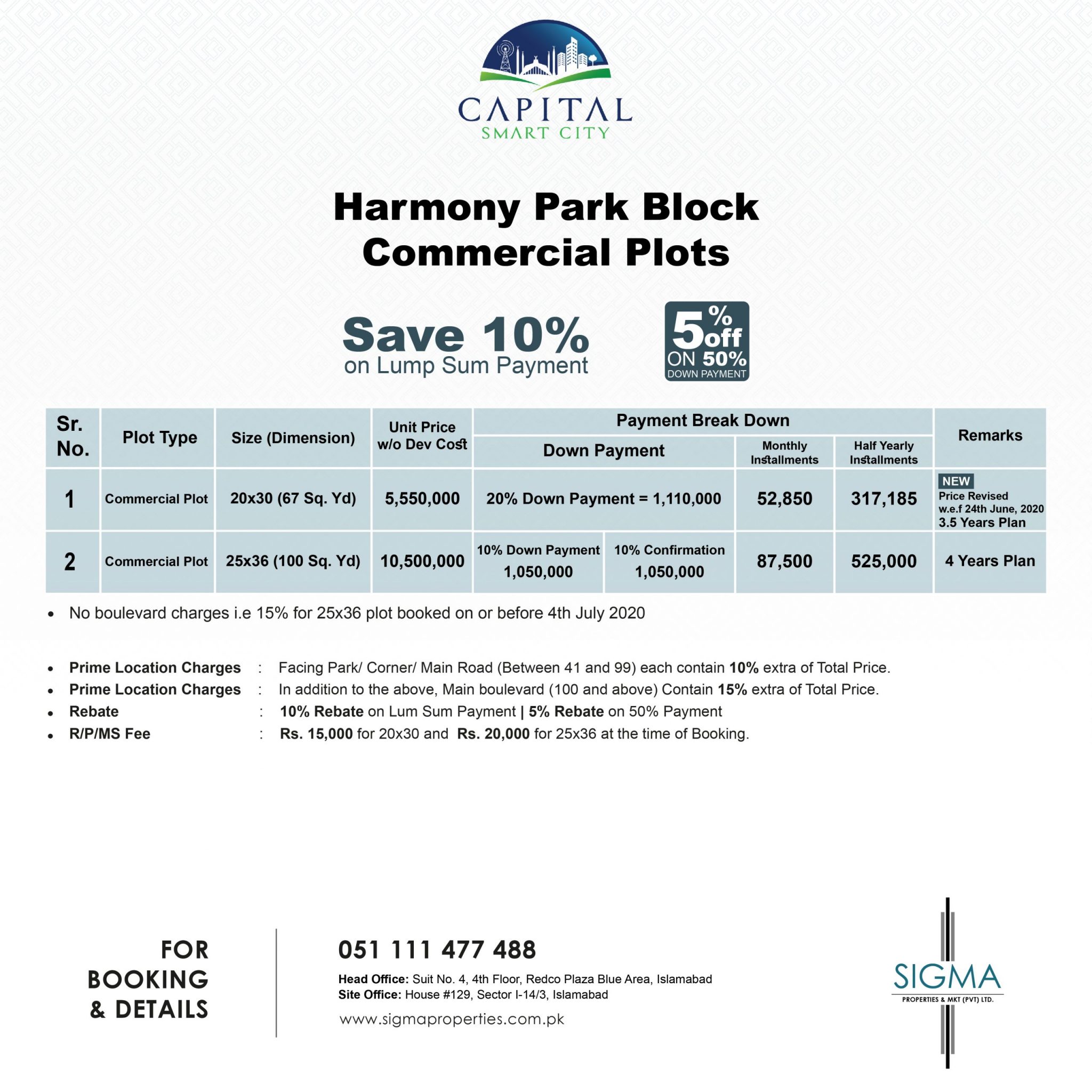 Harmony Park Block Residential Plots
A new block in CSC containing 3.5 Marla Residential Plots has been launched at the most reasonable price in CSC's current event. It gives an equal opportunity to the investors who want to invest in the coming housing project. This opportunity has been provided by CSC so that the potential buyers will be able to become a part of CSC, who couldn't invest because of the higher prices of properties that were offered earlier. The newly established Harmony Park includes the same facilities and development standards as other societies, but this property's prices and sizes are too reasonable.
These residential 3.5 plots (dimensions 20 X 40), 90 Sqft, are situated at the Harmony Park Block right next to the Executive Block of CSC.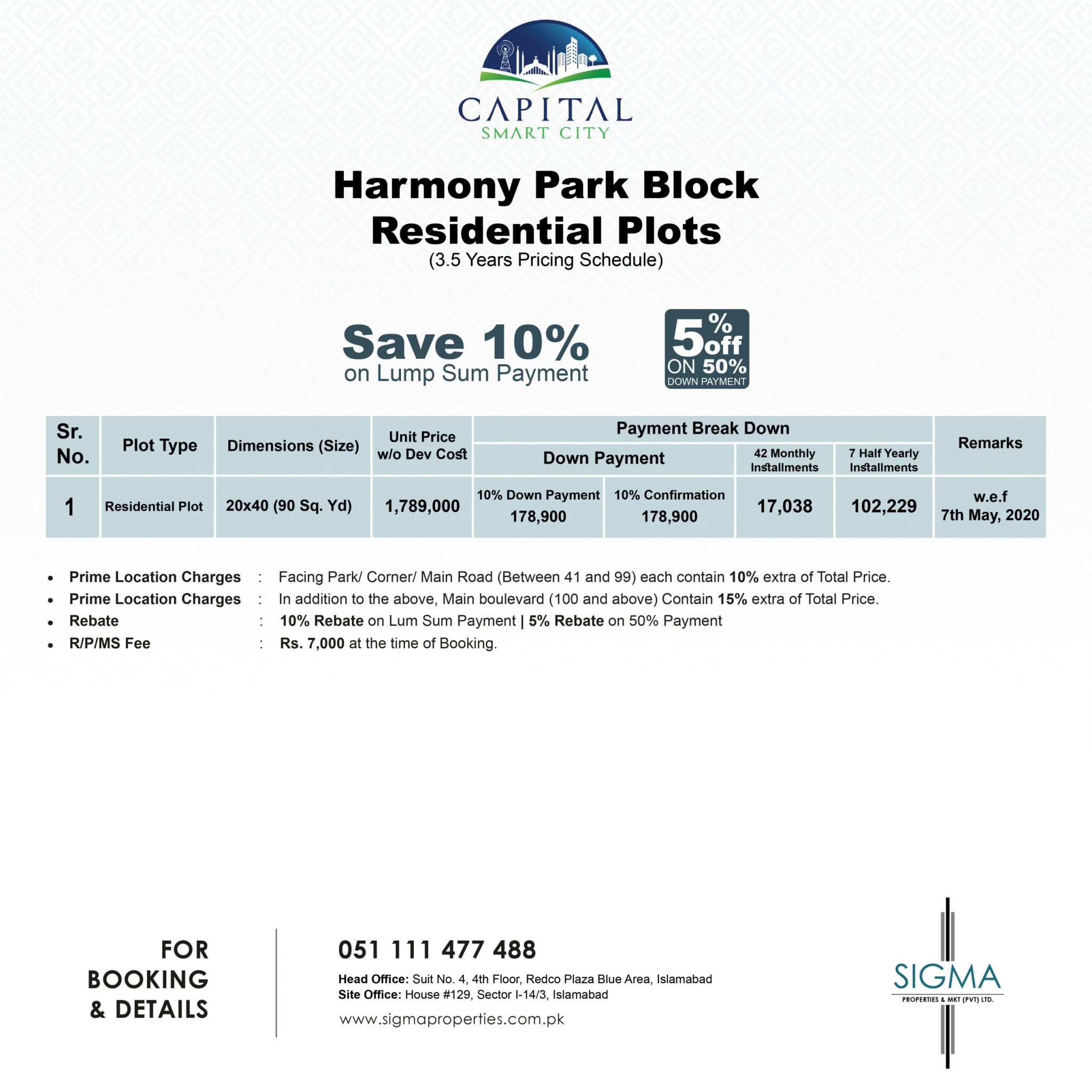 Harmony Villas Apartments
Capital Smart City Islamabad has launched two types of villa apartment's available:
1. 5 Marla One bed Villa Apartment-660 Sqft.
2. 5 Marla Two bed Villa Apartment-856 Sqft.
These apartments are called villa apartments because the exterior structure of the buildings resembles that of Villas. These apartment villas will comprise three floors, i.e., ground floor, first floor, and 2nd floor. Each building will house two adjacent apartments so that each building will include six units. The Floor Plans of both these villas are attached below for your convenience.
Harmony Park Block Villas
The vision of Capital Smart City Islamabad to introduce these  Villa Apartments is to introduce contempary and smart living into its Harmony Park Block. These Villa Apartments are a unique opportunity for you to become a part of this state-of-the-art housing project and experience luxurious living. Capital Smart City has shared its resources and vast experience to deliver these innovative residential options, namely "The Villa Apartments." It's a once-in-a-lifetime chance for you to become a part of a modern urban lifestyle at the most reasonable prices.
Location of Harmony Block
These Villa apartments are located in the Harmony Park block at Capital Smart City. The harmony block is predicted to be located next to the executive block and can relish the supremacy of having a prime location and state of the art facilities. You can also search the Harmony Block map in the 3.5 Marla residential Plot offered by Capital Smart City at The Harmony Park Block.
Payment Plan of the Villa Apartments
The Harmony Park Villa Apartments in Capital Smart City are offered a convenient payment plan of 4 years. According to your feasibility, the Bookings start from only 10% down payment, followed by 10% confirmation charges after 30 days. The remaining amount is payable in monthly and quarterly or semi-annual installments.
A 2.5% discount is offered on a 50% payment and a 5% discount on full payment. Prices are inclusive of development charges. Extra charges apply on the selection of category plots i.e. 7.5% extra for a corner, 5% extra for Park facing, and Main Boulevard. You may also choose the Villa location from the map with only a 25% Down payment. These Villa Apartments and residential plots are available in limited quantity at unbelievable low prices for only a limited time, so we suggest you don't miss out on this once in a lifetime opportunity and book your Villa/plot today.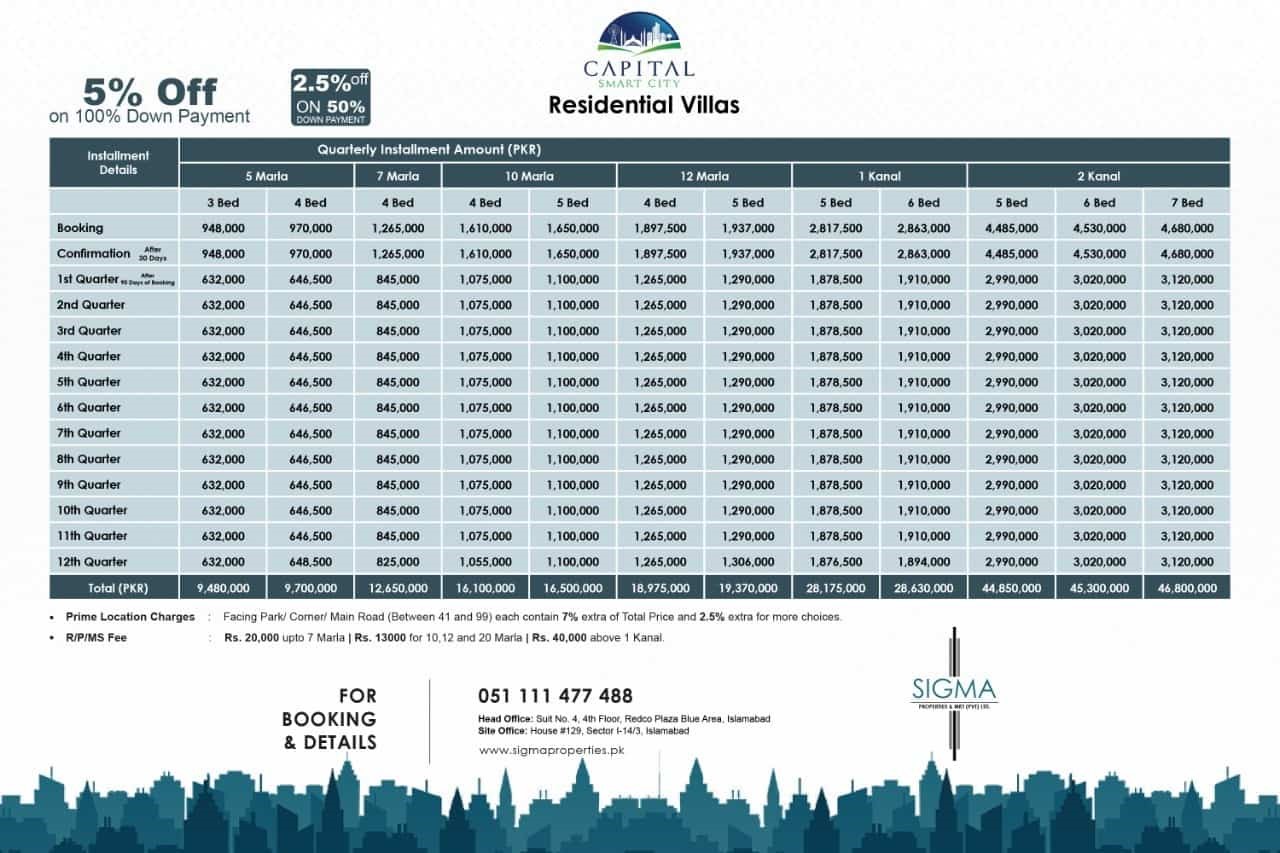 Latest Development 
The development work in the society is undergoing at a brisk pace. Society has signed several agreements between world-leading companies to bring futuristic technology and high-end features.
Harradine golf is hired to build an international standard 18- Hole Golf Course in society. Moreover, the services of Movenpick are acquired for the construction of hotels and resorts to offer the paramount hospitality services in society.
The development work at the society has surpassed its initial stages at Capital Smart City. The progress has somewhat sped up in the last couple of months after the project's official launch. The levelling and plotting in different have completed and balloted with modern and high-tech equipment and machinery.
To overcome the need for water in society, four tube wells are fully operational. Above 200 heavy pieces of machinery are used on the site for development work.
The development work at the overseas and executive block in society was given a priority and now is expanded to other parts of society. Now let's talk in-depth about the significant development status of society.
Carpeted Network of Roads
The construction work of the network of carpeted roads has been accomplished to make transportation and traveling in society convenient. Construction work of 300 feet long main Boulevard is also completed and operational.
Site-02 & 03 Overseas Block Area 1 & 2
According to the latest development work in society, the progress work has commenced, and the latest development can be significantly seen; after completing the initial plotting and earthwork. The work on the infrastructure is ongoing at the site.
The construction work of the sector mosque, the framework for shaft, curb stone, and saucer drain, has been completed in the overseas block.
CSCI progress pictures of Buildings and Structure
Asphalt works have commenced six months ahead of schedule; it was planned for Dec 2019 but was accomplished before its timeline.
Supreme facilities
The Capital Smart City facilitates its residents with supreme facilities. No other society has yet received any approval for the Sui Gas supply. But, the smart city of Pakistan, leading the customers to top-notch easements, received the approval. Now, you can enjoy the perks of a non-stop supply of Sui Gas while residing in the Capital Smart City.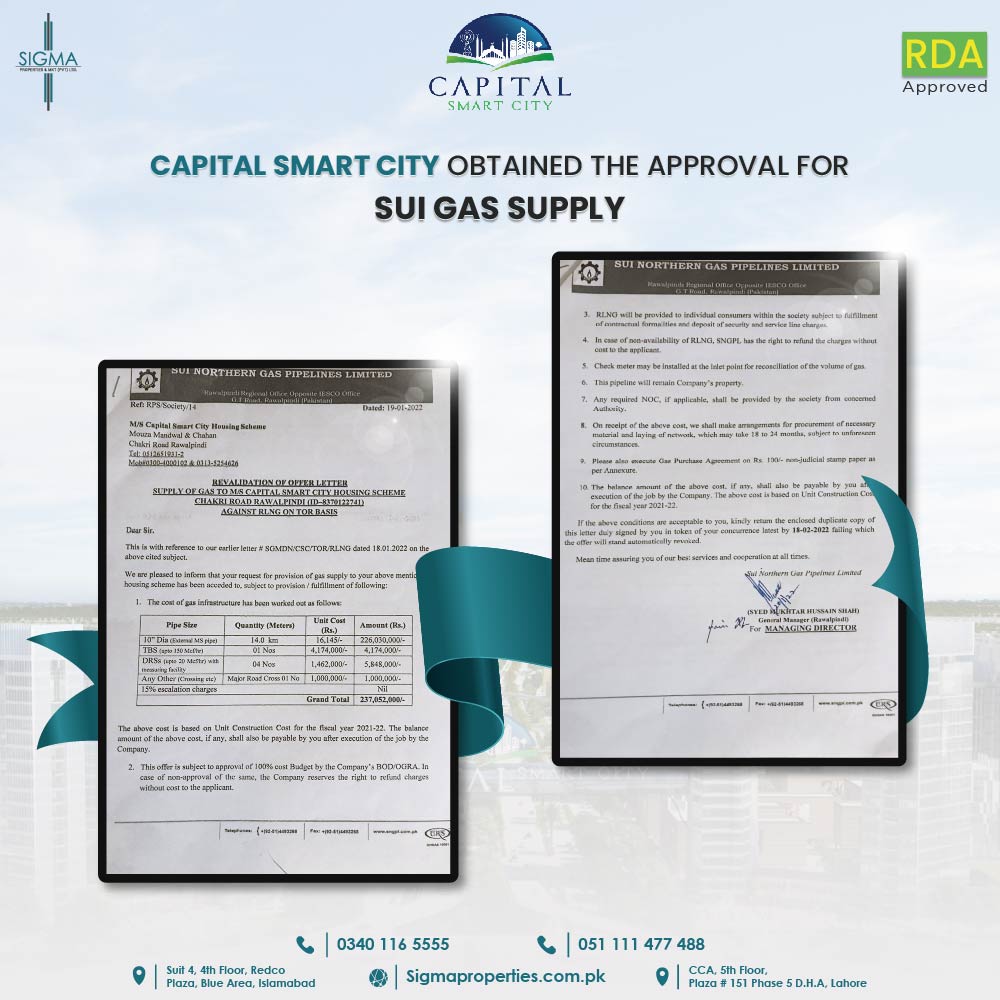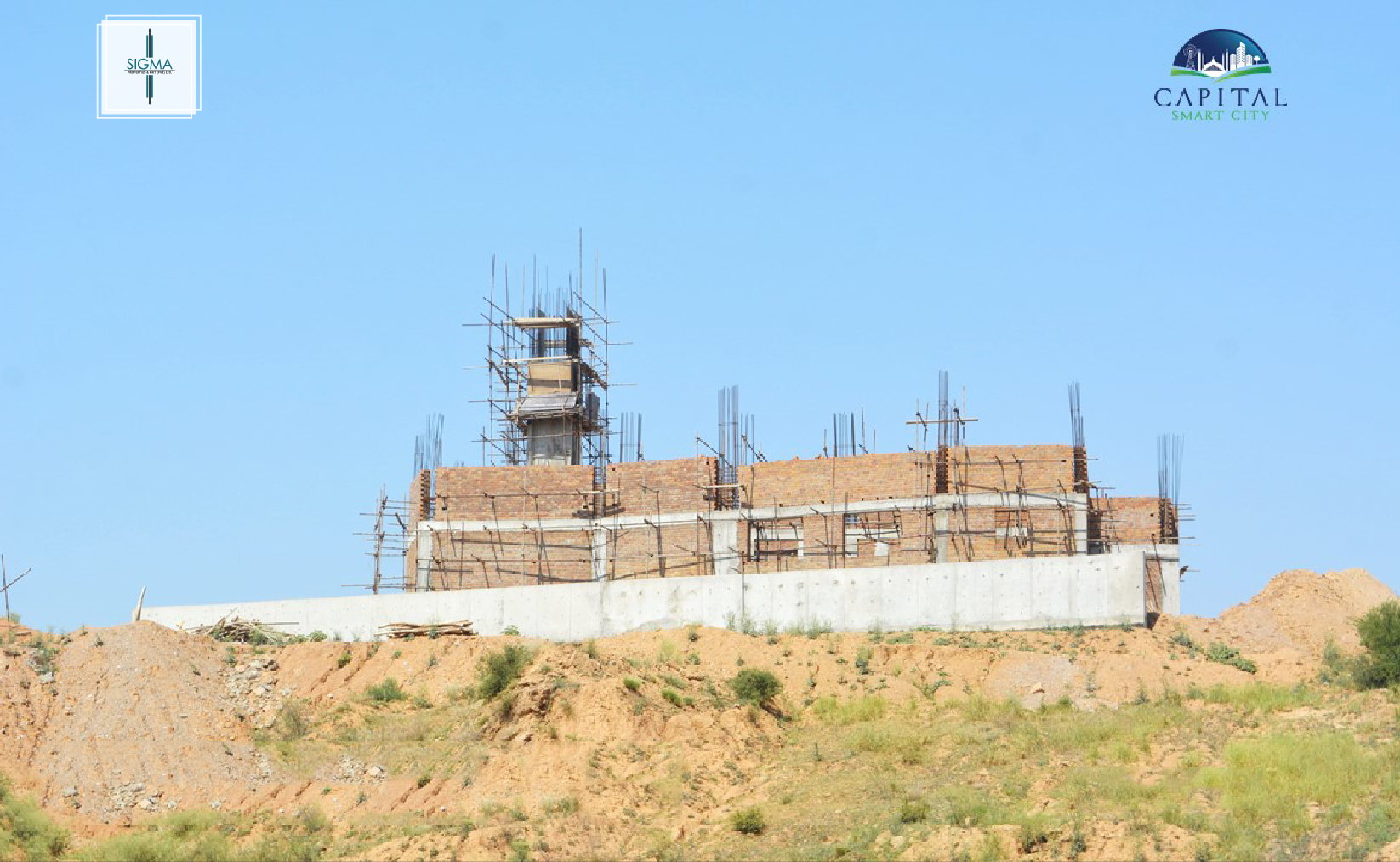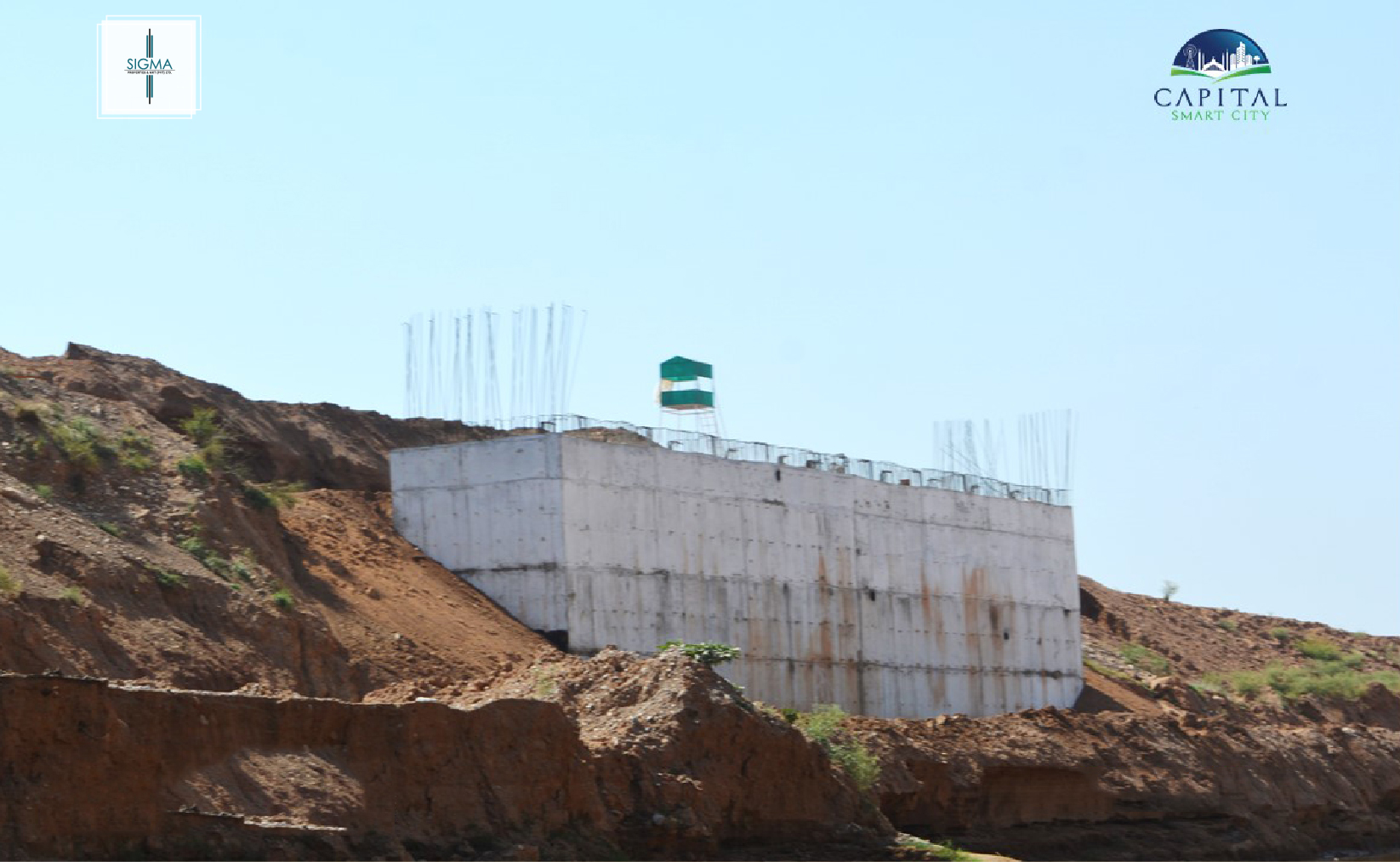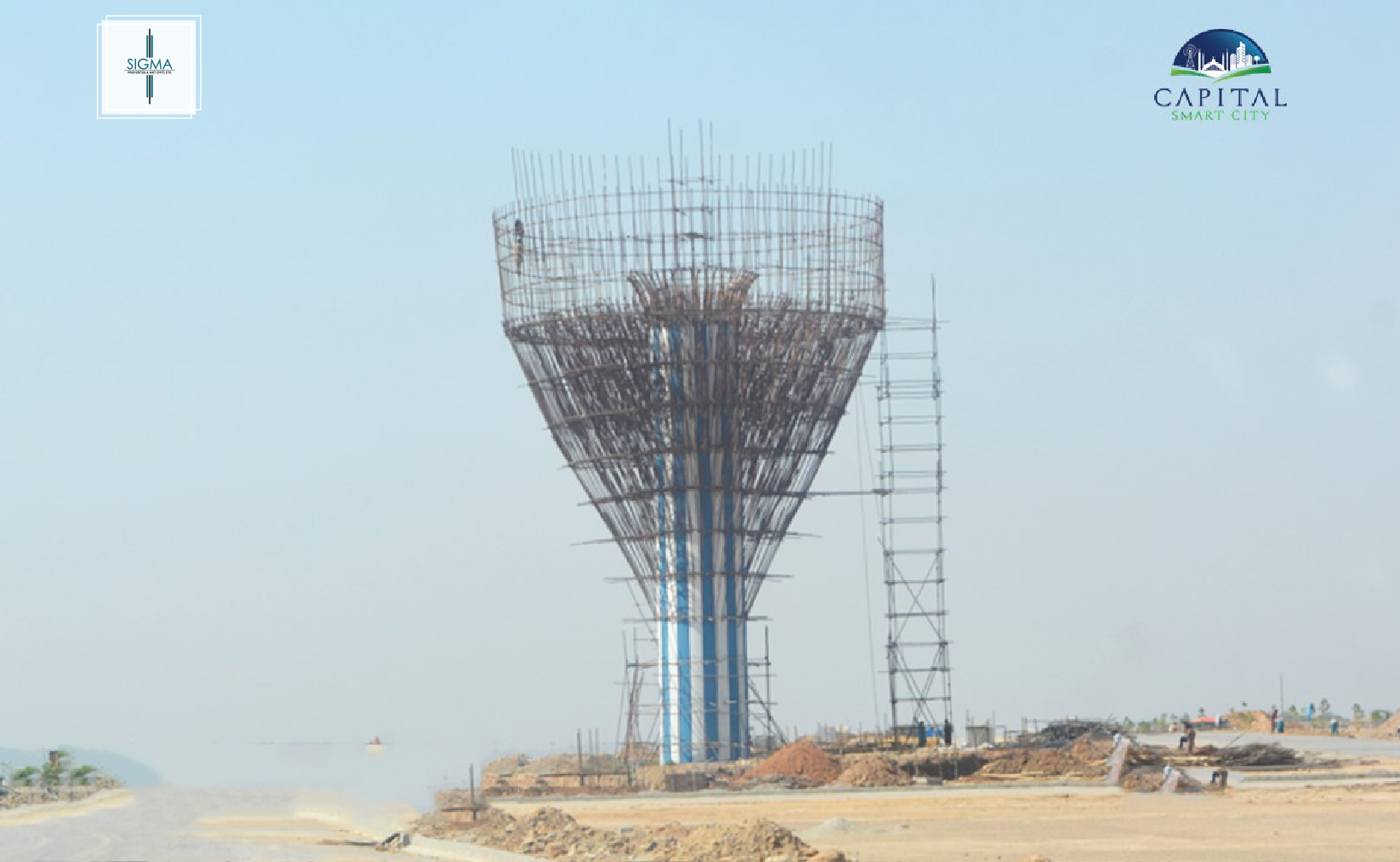 Updated Development Status 
More than 5,570 Kanals of Extention land was purchased by Capital smart City near the Chakri Road and River Sill by November 21st, 2019. The management began the work on its master plan, and this extension area was added to the site of Capital Smart City.
Significant development work observed at the site of CSCI includes the following.
Site-01 Access 2
Base and Electrical Work
Site-02 Main Roads R-1
Access 1 &2
Base work at junction access road two on Chakri Road
Horticulture Work
Electrical work progress
Site -2 & 3
Overseas Block 1 &2 area
Block A Plot cutting
Underground Earthwork
Sub-base
Excavation Work
Executive Block Progress Site-4
Main Sewerage line
Roads and streets.
Infrastructure work
Rebar Fixing Grider-16 Access Bridge 2
Rebar Fixing of Transom pier one at Access Bridge 2
Formwork of Grider-14 at Access Bridge 2 (Pics)
Block- Overseas Block-C- Rebar Fixing for Bowl
Curb stones for Island at Junction Chakri Road Access -2
Access 1 Strom water Drain
Overseas Mosque
Overseas block B Construction of Smart School
Overseas Block A- Lean Concrete
Plinth Beam Lean Concrete- Overseas Block- A
Overseas block development
Site development in overseas prime Block
Freij International to build an amusement park
On October 23rd, 2019, for the construction of an amusement park in the vicinity of Capital Smart City Islamabad, an MOU had been signed between Freij Entertainment Int. & Capital Smart City. Freij Entertainment International is the world's largest traveling entertainment company that organizes fun carnival rides, funfairs, and skilled games worldwide.
Freij Entertainment International CEO Mr. Freij El Zein signed the agreement to build many of the first amusement parks in Pakistan at Capital Smart Smart, Islamabad, in collaboration with Future developments holdings, the developers of CSC.
Freij Entertainment International has signed a contract to establish fascinating amusement parks in these different cities of Pakistan, including Lahore, Karachi, and Islamabad. Freij Int. has delivered the most impressive and efficient world-class entertainment projects with record completion within 2-3 months in over 26 countries.
Chief Commercial Officer of CSC, Mr. Imran Zahid, Chief, declared that this could be a big step towards providing much-needed recreation and amusement facilities throughout Pakistan and bringing up Pakistan's economic growth.
These recreational parks can offer job opportunities, improve people's lives, and produce economic stability in the region. The interest and investments of foreign firms in Pakistan can improve the country's financial situation and introduce new opportunities to future investments and business opportunities. This step is commendable and will help soften our country's image, making it more attractive and appealing for tourists and the local population.
Smart Features
This society offers its residents a unique and contemporary living experience to enjoy ahead of its time facilities. This housing society will become the first Smart City in Pakistan by incorporating advanced technology and introduce intelligent facilities. Some of the smart features of this society are mentioned below.
Eco-Friendly environment
Latest and up to date Security
Green and Clean City
BRT Metro bus system
Underground Supply of Electricity
24/7 Supply of Water, Internet, gas, and electricity
CSC Specially designed Smart apps for traffic, power, internet, and commute
Five Star Hotels, Shopping malls, and Sport arenas
Smart and contemporary residences
World-Class Architecture
Designated Overseas block
Grand Mosques
Parks, lakes & Playgrounds
Entertainment
18-Hole Golf Course
Moven Pick hotels & resorts
A Designated interchange from M-2
Close Proximity to Islamabad and Rawalpindi Cities
Balloting
1st Balloting
The first balloting of CSC was scheduled to be held at the end of November 2019, but due to the uncertain climate of political instability in Islamabad, the event was postponed. Capital Smart City held its first e-Balloting successfully on December 21st, 2019, at the project site. The ballot included the plot files with paid dues.
The balloting was held for the eligible plots booked in the executive Block 1 and the overseas Block 1. The map of the said blocks was launched beforehand for the selected investors, who were given the privilege to choose their plot location. Among these investors were the ones who had booked their plots on:
Upfront 100% Payment
Upfront 50%. Payment
Upfront 40%. Payment
Another option is given to the investors who were or still are interested in choosing the location themselves and have to pay an additional 40% apart from due instalments.
The last date of this offer was December 5th, 2019, after which the selection option was closed. The members were also granted the privilege to visit Capital Smart City's head office to finalize their plot.
Ballot Details
The remaining eligible files were included in the first ballot after the selection of plots was over. A computerized ballot to allot numbers to residential and commercial plots was then held on December 21st in an elegant ceremony held at Capital Smart City.
2nd Balloting
The society has announced that the 2nd balloting of the society will be held this year in 2021. However, further details and eligibility information is not yet made public. It can only be assumed that, like the 1stballot, the plots with 50 % cleared payment and above will be included in this balloting. For further information about the balloting, you should check the official website of Capital Smart City.